Audiocore AW-3020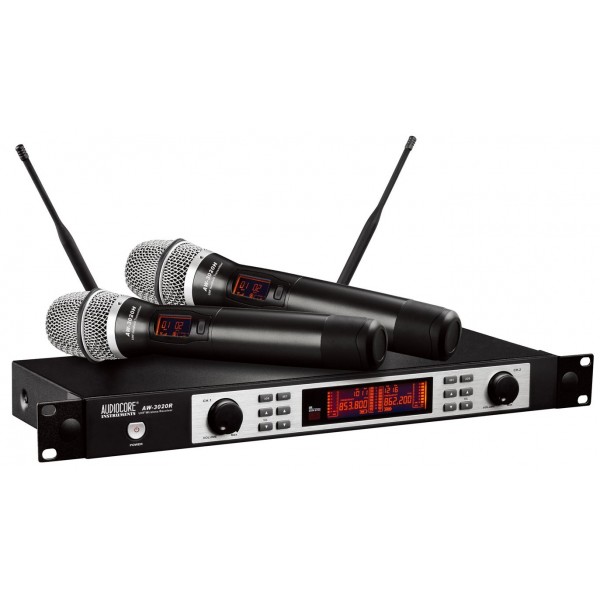 Mik Wireless Audiocore AW-3020
Audiocore AW-3020 merupakan Mik Wireless unik dan adaptif yang didesain khusus untuk penggunaan massal dan jarak sistem dekat seperti pada ruang karaoke, ruang kelas, gereja, ruang rapat / meeting, kantor, pameran, dll. Sistem dari Audiocore AW-3020 mampu mencari frekuensi kosong secara otomatis dan Anda dapat langsung mengsingkronisasi transmitter anda via sensor infra merah.
Spesifikasi receiver:
Sirkuit PLL sintesis
Layar LCD dengan indikator
Kontrol volume digital dan tombol pengoperasian yang mudah
7 levels mute control
7 RF levels and 8 AF levels
Sistem sinkronisasi dan kunci frekuensi otomatis via infra merah
Spesifikasi transmitter:
Indikator LCD untuk status group, channel, battery level, RF Power, AF Gain, Sync & lock
Sirkuit kontrol gain dan daya RF yang dapat diatur (5, 10 atau 30 mW)
Sistem sinkronisasi dan kunci frekuensi otomatis via infra merah
Desain mik yang praktis
--------------------------------------------------
Audiocore AW-3020 Wireless Microphone
Audiocore AW-3020 is a unique, adaptive Wireless Microphone that is designed specifically for multi-unit application such as Karaoke rooms, Classrooms, Churches, Conference Rooms, Office, Bazaar, etc. Audiocore AW-3020 system is capable of searching vacant channels automatically and you can synchronize the transmitter right away via infra-red sensor.
Receiver Specifications:
PLL synthesized circuit
LCD with warm amber backlight indicators
Digital volume control with tactile switches
7 levels mute control
7 RF levels and 8 AF levels
Auto sync-locked system via infra-red
Transmitter Specifications:
LCD indicators for group, channel, battery level, RF Power, AF Gain, Sync & lock status
Adjustable gain control circuit & RF power (5, 10 or 30 mW)
Auto sync-locked system via infra-red
Practical design
Receiver
Audio Output Level
Max. 8 dBu
Channel
160
Dimensions (L x W x H)
44 x 412 x 160 mm
Frequency Bandwidth
50Mhz
Frequency Range
UHF 600-900Mhz
Power Supply
12-18V 500mA
S/N Ratio
> 105dB(A)
Sensitivity
-105dBm
T.H.D.
< 0.8%
Weight
2500g
Transmitter
Battery Life
> 8hrs (alkaline)
Dimensions (L x W x H)
250 x 53 mm
Frequency Bandwidth
50Mhz
Frequency Deviation
Max. ±55kHz
Frequency Range
UHF 600-900Mhz
Frequency Response
60Hz-18kHz
Power Supply
2x AA batteries or rechargeable batteries
S/N Ratio
> 102dB(A)
Spurious Rejection
> 55dBc
T.H.D.
< 0.5%
Weight
350g (w/o batteries)
General
Dimensions (L x W x H)
55 x 32 x 12 cm (w/ packaging)
Weight
5kg (w/ packaging)