Audiocore PA-0811D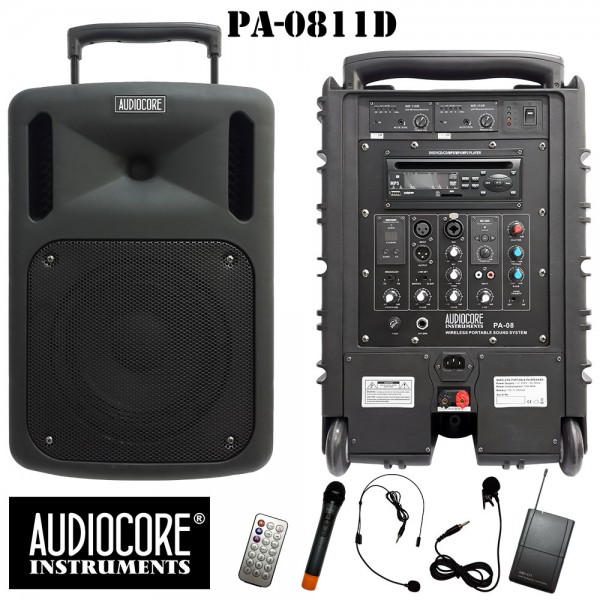 Sistem PA Wireless Audiocore PA-0811D (1 mik genggam & 1 mik bodypack wireless dan modul DVD)
Audiocore Instruments® menciptakan standar baru untuk Sistem PA wireless dengan seri PA nya yang legendaris. Model flagship ini menggunakan amplifier kelas D yang memberikan speaker daya 72 Watt RMS dengan masih menjaga efisiensi dan efektifitas energi untuk menjaga umur baterai agar tetap tahan lama.
Audiocore seri PA menggunakan modul individu untuk setiap fungsi untuk menghemat pemakaian energi dan memudahkan perawatan. Jika salah satu modul ada yang tidak berfungsi, modul lain tidak akan terpengaruh tidak seperti sistem PA tradisional yang menggunakan satu modul gabungan. Kualitas mik wireless dari Audiocore seri PA ini luar biasa dengan kualitas suara vokal yang jernih dan mampu menjangkau hingga 25m menjamin kejernihan vokal dan mobilitas maksimal. Fitur-fitur tersebut menjadikan Audiocore seri PA ini cocok untuk digunakan di berbagai aplikasi seperti: Industri, Kantor, Sekolah, Ruang Kelas, Rapat, Panggung kecil, Promosi, Rumah Ibadah, dll.
Audiocore seri PA hadir dengan 4 varian:
Features:
Kontrol daya otomatis, tak ada distorsi pada output power manapun
Dapat melakukan integrasi secara wireless via modul relay untuk menciptakan sistem wireless antara Audiocore seri PA
Dengan roda dan pendorong yang didesain tersembunyi untuk mobilitas dan penampilan yang lebih elegan
Remot kontrol, Radio FM, Koneksi Bluetooth, USB, SD Card dan 1 input ekstra untuk mik/instrumen tambahan
Efek echo built-in untuk suara vokal yang lebih kaya
Kenop kontrol terpisah untuk seluruh input audio (volume, bass, dan treble)
Fitur Mic Priority. Ketika fitur ini diaktifkan, maka ketika anda berbicara via mik wireless volume musik akan secara otomatis turun.
4 jam untuk mengisi ulang daya penuh dan dapat digunakan sampai dengan 6-7 jam tergantung modul yang digunakan
Catatan: Foto hanya ilustrasi dan wireless module dijual terpisah.
--------------------------------------------------
Audiocore PA-0811D Wireless PA System (1 handheld & 1 bodypack clip-on/headset wireless microphone and DVD module)
Audiocore Instruments® raise the standard of Personal / Industrial PA System with its Legendary, PA-series. This flagship model uses Class D Amplifier that boost the speaker with 72 Watt of RMS power while maintaining energy efficiency and effectiveness to extend the battery life.
Audiocore PA-series uses individual modules for each functions to save more energy and also easier maintenance. If any of the module is broken, the other modules won't be affected unlike the traditional PA Speakers that uses single master board. The quality of wireless microphones in the Audiocore PA-series is extraordinary. With pristine vocal sound quality and can reach up to 25m, gives you maximum vocal clarity and mobility. These features makes Audiocore PA-series suitable for most indoor/outdoor applications, such as: Industrial, Office, School, Class, Meeting, Small stage, Promotion, House of Prayer, etc.
Audiocore PA-series comes with 4 variants:
Features:
Automatic power control, no distortion in any power output
Support wireless broadcast via wireless relay module to create a wireless system between Audiocore PA-series
Hidden levers and pulleys design for simple appearance, and easy to carry around
Remote control, FM radio, Bluetooth connection, USB, SD Card and 1 extra input for extra mic/instruments
Built-in Echo effect for more rich vocal sound
Separate control knob for all audio input (volume, bass, and treble)
Mic priority function. When this feature is on, the ongoing music playback will automatically stop when you talk via microphones and automatically resume when you stop.
4 hours to fully charge, can last up to 6-7 hours depends on the module used
Audio and Electronics
Audio Player
CD/DVD Player, MP3 Player via USB Flash Disk
Operating Time
4-6 hrs
Recharge Time
8-12 hrs
Standby Current
40-70mA (unpaired)
Bluetooth
Frequency Response
20Hz-18kHz
S/N Ratio
68dB
Version
2.1
Working Voltage
8-12V
Media Player
Coordinated Distortion
< 0.012% (1kHz)
Frequency Range
20Hz-20kHz
Laser
Semiconductor Laser Wave 780mm
Receiver
Frequency Range
80Hz-18kHz
Sensitivity
93dB/m/W
T.H.D.
0.05%@1kHz/1W
Transmitter
Audio Input Level
Handheld: 0dBV max Bodypack: 0-10dBV max
Battery Life
Handheld: > 8hrs Bodypack: > 10hrs
Dimensions (L x W x H)
Handheld: 245 x 50 mm Bodypack: 105 x 65 x 23 mm
Gain Adjustment Range
Bodypack: 20dB
Input Impedance
Bodypack: 470kΩ
Power Supply
2x AA alkaline or rechargeable batteries
Transmitter Quantity
2 (1 handheld, 1 bodypack)
Type
Handheld Microphone and Bodypack Transmitter
Weight
Handheld: 350g (w/o batteries) Bodypack: 80g (w/ batteries)
General
Dimensions (L x W x H)
49 x 34 x 34 cm (w/o packaging) 63 x 41 x 41 cm (w/ packaging)
Power Output
72W (RMS)
Power Supply
AC 100V/60Hz - 240V/50Hz
Weight
16kg (w/o packaging) 18kg (w/ packaging)