Audiocore WHL-1040V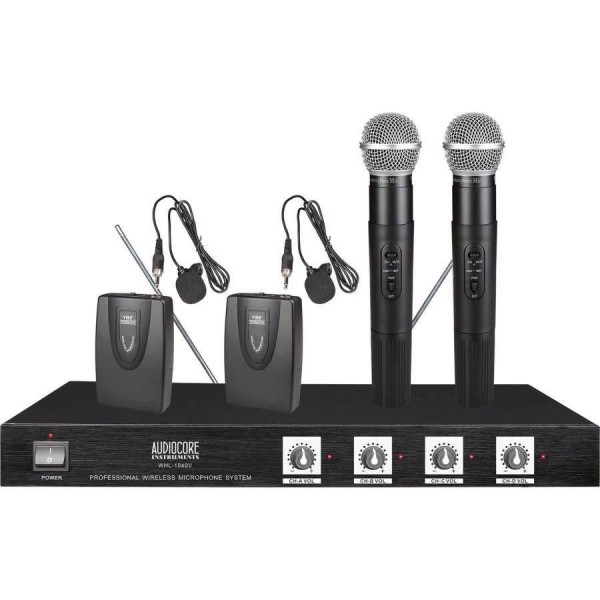 Audiocore WHL-1040V (2 Mik Genggam & 2 Bodypack Clip-on Wireless)
Para desainer Audiocore Instruments® memiliki satu poin kunci saat mendesain mikropon wireless Audiocore seri V ini: Value. Konsep ini membawa mereka pada penciptaan sebuah seri mik wireless yang memberikan kejernihan suara luar biasa, sensitifitas mik yang tinggi, sistem operasi yang mudah, dan ketahanan yang dapat diandalkan dengan harga terbaik di kelasnya. Mik wireless ini ideal diaplikasikan dimanapun: seminar, rapat, presentasi, karaoke, acara indoor/outdoor, MC, dll.
Overview:
Frekuensi VHF, menjangkau hingga kurang lebih 25m
Lapisan gelombang suara multi-level dengan anti-interferensi
Reseptor mic bersensitifitas tinggi
Kenop gain terpisah untuk setiap channel transmitter
Sirkuit pengurang bising
Mudah digunakan, sistem plug and play
Material kuat dan tahan banting pada receiver dan juga transmitter
Mikropon wireless Audiocore seri V ini memiliki varian set:
--------------------------------------------------
Audiocore WHL-1040V (2 Handheld & 2 Bodypack Clip-on Wireless Microphone)
Audiocore Instruments® designers has one key point in mind when designing the Audiocore V wireless microphone series: Value. It leads them to the creation of a wireless microphone that gives stellar voice clarity, high-sensitivity mic head, simple to set-up & operate, and a reliable durability with lowest price possible. This wireless microphone is ideal for any application such as seminar, presentation, meeting, karaoke, indoor/outdoor events, MC, etc.
Overview:
VHF frequency, support up to 25m
Multi-level sound surface wave with anti-interference
High-sensitivity dynamic mic head
Individual gain knob for each transmitter
Noise reduction circuit
Easy to set-up, plug and play system
Rugged and durable material for both receiver & transmitter
Audiocore V wireless microphone series comes with variants of:
Audio and Electronics
Frequency Band
VHF
Receiver
Audio Output Level
Independent: 0~+400mV Hybrid: 0~+300mV
Distortion
< 0.5%@1kHz
Frequency Deviation
± 25kHz max
Frequency Range
VHF 170-270Mhz
Frequency Stability
± 0.001%
Mode of Oscillation
Quartz Crystal
Modulation System
FM
Power Consumption
5W
S/N Ratio
> 105dB
Transmitter
Battery Life
8hrs continuous operation
Mic Capsule Type
Dynamic (Moving Coil)
Power Consumption
10mW, < 30mA
Power Emission
< 20mW
Power Supply
DC 9V
Pre-emphasis
50uS
Sensitivity
1.2/UV@S/N12dB
Transmitter Quantity
4 (handheld)
Type
Handheld Microphone
Working Temperature
-10~55°C
General
Dimensions (L x W x H)
57 x 42 x 7 cm (w/ packaging)
Weight
4kg (w/o packaging) 5kg (w/ packaging)