Tascam Ministudio Personal US32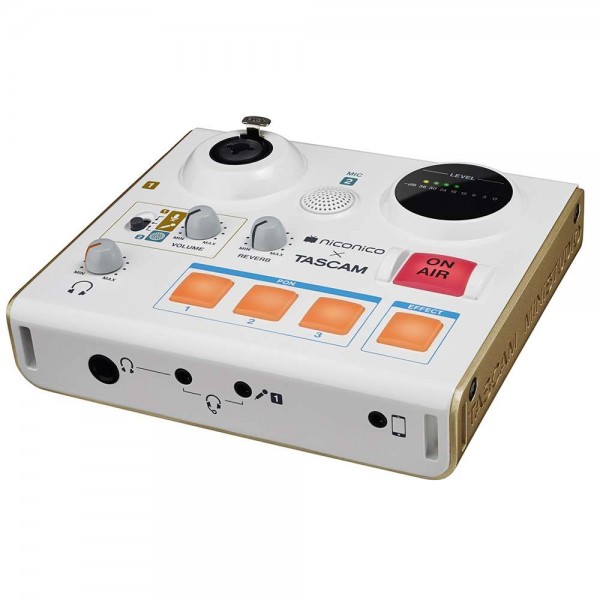 Tascam US-32 MiniStudio USB Podcasting Audio Interface
The TASCAM MiNiSTUDIO Personal US-32 is your complete, desktop online broadcast studio. Featuring a professional quality audio interface and a number of unique real-time effects, the MINISTUDIO Personal delivers everything you need to set the Internet on fire.
Features
Have an effect
Designed to bring an extra dimension to your podcasts and live streaming, the TASCAM MiNiSTUDIO features three assignable PON sound effect buttons. Use the included bell, buzzer and applause effects or apply your own .wav or .mp3 files for a completely customized experience. You can also set each velocity sensitive PON button to act as a one-shot sound effect, to only play while you press or to loop as long as you hold the button down.
Find your voice
Diguise your voice, fool your fans! Perhaps the most extreme feature of the MiNiSTUDIO Personal is the Voice Effects option. Simply pressing this innocent little button will instantly transform your voice in any one of a number of amazing and amusing ways. Pitch your voice up into cartoon mouse territory or pitch it down like you've joined the Dark Side. Add a spacey Echo, wobbly Chopper or go old school with the Walki-talkie-approved Radio effect. Voice Effects: crazy, wacky and a whole lot of fun.
Become an Expert
In addition to the default Easy mode of the TASCAM MiNiSTUDIO software panel is an Expert mode that can be accessed by selecting the tab along the top of the window. This exposes a more comprehensive set of controls that enable you to fine tune EQ, compression and reverb settings as well as customize the behavior of the PON sound effect buttons and the various Voice Effect options. Don't be fooled by the friendly face of the MiNiSTUDIO - underneath the shiny exterior lies a truly professional tool that proudly carries the TASCAM name.
Audio interface functions
Support for high-resolution recording formats up to 96kHz/24-bit
Supports Windows (ASIO/WDM) and Mac (Core Audio)
USB2.0 computer connection
Compliant with USB Audio 2.0
Can be connected to an iOS device using an Apple Lightning-USB camera adapter (sold separately).
USB bus power operation supported when connected to a computer
Operation confirmed with major DAW software, including Sonar, ProTools, Cubase, Live, Studio One and GarageBand
Operation confirmed with major streaming and calling software
Hardware functions
XLR/TRS input jacks support balanced input and can provide +48V phantom power
Mini jack mic input (MIC 1)
Supports connection of 4-pole earphone with mic
Stereo mini jack AUX input that can be used to connect portable audio players and game devices
Support for direct guitar input
Support for low-level dynamic mic input signals
DSP effects (equalizer, compressor and reverb)
Input monitoring function allows input sounds to always be heard before they are transmitted
3 PON trigger pads that are self-lighting and velocity-sensitive
REVERB knob that can be used to adjust the amount of reverb
Voice effect on/off button
ON AIR button that starts transmission to the computer
Stereo mini jack headphone output
1/4" headphone output
Software functions
Dedicated software has EASY and EXPERT tabs
Audio files can be assigned to PON trigger pads by dragging and dropping
Velocity can be turned on/off for PON trigger pads
PON trigger pad volume adjustment
PON trigger pad repeat ON/OFF
PON trigger pad fade in/out setting
PON trigger pad start time setting
4 sound presets with equalizer and compressor settings
5 voice effect presets
Voice effect parameter adjustment
5 reverb presets
Reverb type and parameter setting (HALL/ROOM/LIVE/STUDIO/PLATE)
Buffer size setting (64/128/256/512/1024) function (Windows only)
Transmitted signal MONO/STEREO switching
ASIO ON/OFF switch that allows mic audio to be transmitted after effect processing (Windows only)
PC Audio Out (PC output sound) and Master Out (audio transmitted to PC) volume adjustment
Other features
Lightweight design convenient for mobile use
2 strap attachment points allow commercially-available camera straps to be attached
Product compliant with RoHS